#1 Austin Home Build & Remodeling Contractor
Planning to renovate or build a custom house in Austin, Texas? Revent is the best custom home contractor for the job.
From luxury home builds to custom remodels, Revent is renovating expectations & building dream homes in ATX.
"Modern Victorian" Style
New Build For Sale
Located in Zilker Park, this Modern Victorian Custom New Build is currently being built and is available to purchase.
The home is four bedrooms, three baths, with a two-car garage, a pool, and is just shy of 3,200 sq ft.
Award-Winning Home Contractor in Austin, TX
Let our experienced home contractor team transform your house into an oasis.
We'll collaborate closely with you, designers and architects to create the perfect construction project. With us as your general contractor, we can make all of your dreams into reality–from revamping existing interiors to building a new property from scratch.
We can "Revent" your home with remodels, new additions, or start from scratch with new house construction.
Serving Clients in The Greater Austin Metropolitan Area
We proudly build and remodel homes in the greater Austin area. We love Texas Hill Country and are so proud to call Austin our home. Let us help build your dream home so you can fall in love with this town just like we have (if you haven't already).
Are you looking to build your dream home?
We will design and build your luxury home on the lot of your choosing or you can purchase one of our custom-built projects in the works.
Have you bought an older or dated home that needs a full renovation?
We can help you reimagine your home and realize the vision you had for it when you bought it. No one sees potential better than Revent.
Are your current kitchen and bathrooms lacking?
Revent is an award-winning Austin Kitchen remodeling contractor and can help you make your kitchen and bath both modern & beautiful.
Does your bathroom need an upgrade?
Create a dream bathroom remodel that boasts fabulous style and function by revising a layout, adding storage, and replacing your shower and bathtub.
Home Additions
Got a cramped home you love in the perfect Austin neighborhood?
Let Revent help you add some square footage with a new home addition.
The
Home Contractor & Client

Relationship is Our Top Priority

We deliver industry-leading quality without question, but what really separates us is our relationship with you.

Working with Revent as your home contractor is an experience like none other. You can expect constant communication and meticulous involvement from pre-construction to handing over the keys.
"Reventing The Client Experience"
We pride ourselves on "Reventing" the client experience of construction. The building or renovation of your dream home should be a dream process and we deliver nothing short of that.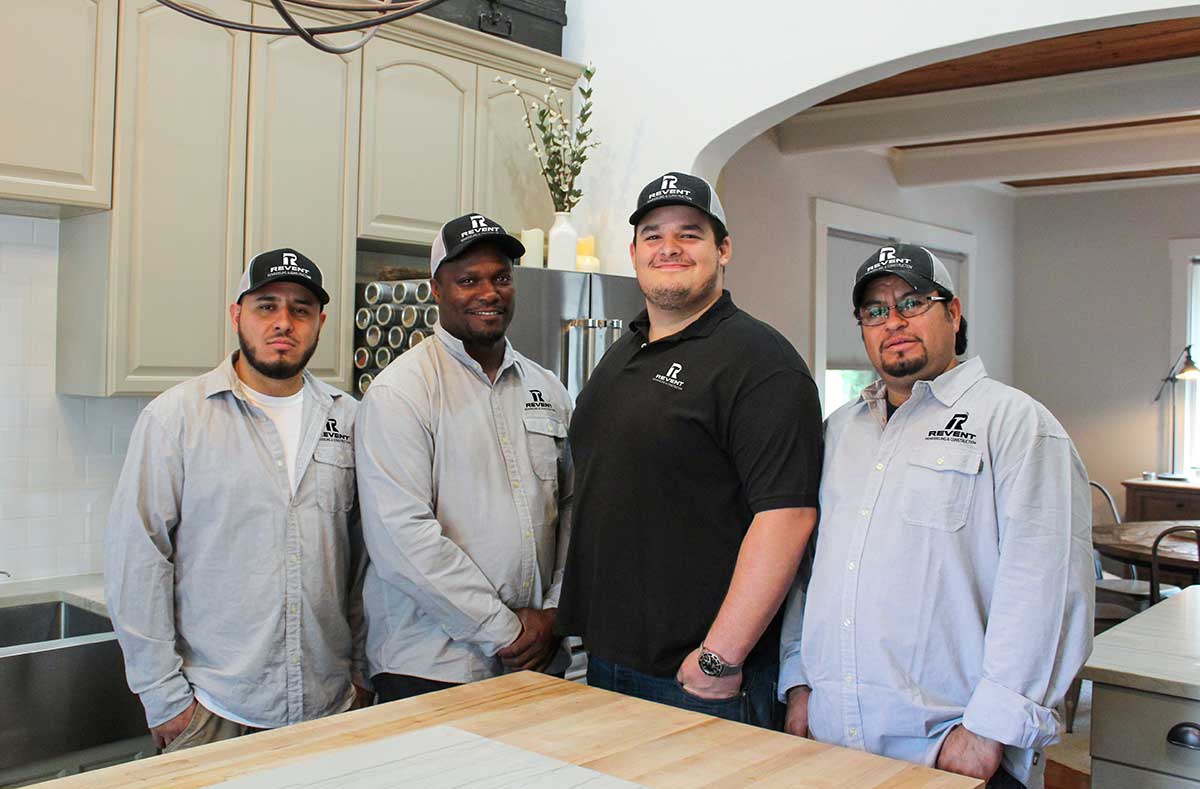 Build Your Dream Home in Austin
Hire Revent as Your Luxury Home Contractor
The Revent Builds team is here to help.
Our team of highly skilled craftsmen work seamlessly together to bring your new home construction vision to life.
Get a Quote Now!
For Your Luxury Custom Home Build