Bathroom Remodels in Austin, Texas
Austin Bathroom Renovation Contractors
Start a dream bathroom remodel in ATX that boasts fabulous style and function by revising a layout, adding storage, and replacing your shower and bathtub. No bathroom remodeling job in Austin is too big for Revent. Ask us about your bath remodel project. We provide free quotes for bathroom remodeling in Austin, Texas, and the surrounding Austin Metro Area.
Bathroom Gallery

Luxury Remodelers
in Austin, TX
When it comes to luxury bathroom remodels, Revent Builds stands unparalleled in quality, innovation, and client satisfaction. From selecting the finest materials to incorporating the latest design trends, we ensure every detail is meticulously executed.
Our commitment to excellence has earned us the reputation as the best luxury bathroom remodeler in Austin. Don't just take our word for it—explore our bathroom gallery to see examples of our exceptional work and discover why Revent Builds is the go-to choice for luxury bathroom remodels.
Dream Bathroom Remodeling
Austin's Best Bathroom Remodels
We work with talented and experienced bathroom interior designers and architects, or you can bring your own designs to the table.
No job is too big for us. We also build luxury homes from the ground up, so moving walls, plumbing, & electrical is right up our alley. Basically, we can give you a blank slate and create your ideal bathroom layout & design.
We also offer bathroom remodeling advice on choices for materials like countertops, tile, flooring, and paint to help remove the guesswork and overwhelm from your bathroom remodel.
For bathroom remodeling, Austin, Texas' Revent remodeling and construction will ensure your bath remodel surpasses your expectations. See some of our bathroom remodels here.
Determine Your Budget for a Renovation Project in Austin
Need Custom
Build Inspiration?
Our 3 Best Bathroom Remodels | Austin, Texas
Have you been dreaming of the perfect bathroom remodeling makeover but don't know where to begin? Look no further than Austin, Texas! This lively city is renowned not just for its delicious food and stunning architecture – it's also home to some of the most inspiring bathroom remodels in America.
---
Bathroom Remodeling in Austin, TX
Bathroom Remodeling in Austin, TX
Bathroom Remodeling in Austin, TX
Take Our Home Decor Style Quiz
What Is My Interior Design Style?
Find out now with our quick home decor quiz. From Modern Victorian to Traditional Farmhouse, see which design style suits you best!
Why Choose Revent for Your Bathroom Remodel?
John Gioffre, owner:
When you work with Revent Builds, you work with real professionals from Austin. John gives 100% of his passion and attention to every project. With client satisfaction as his metric for success, John pushes Revent to be best luxury bathroom remodeling company in Austin.
Featured Bathroom Remodel
Contemporary Mexican-Inspired Bathroom Remodeling Project
This out-of-style 1986 build is undergoing a major overhaul into a contemporary Mexican-inspired villa that backs right up to the Austin Greenbelt.
The color scheme is whites with bleached wood tones from the beach, the pool plaster will be the iconic deep blue of the Caribbean Sea.
Remodel Your Dream Bathrom in Austin
Start Your Bathroom Remodeling Project
The Revent Builds team is here to help.
Our team of highly skilled craftsmen work seamlessly together to bring your bathroom remodeling vision to life.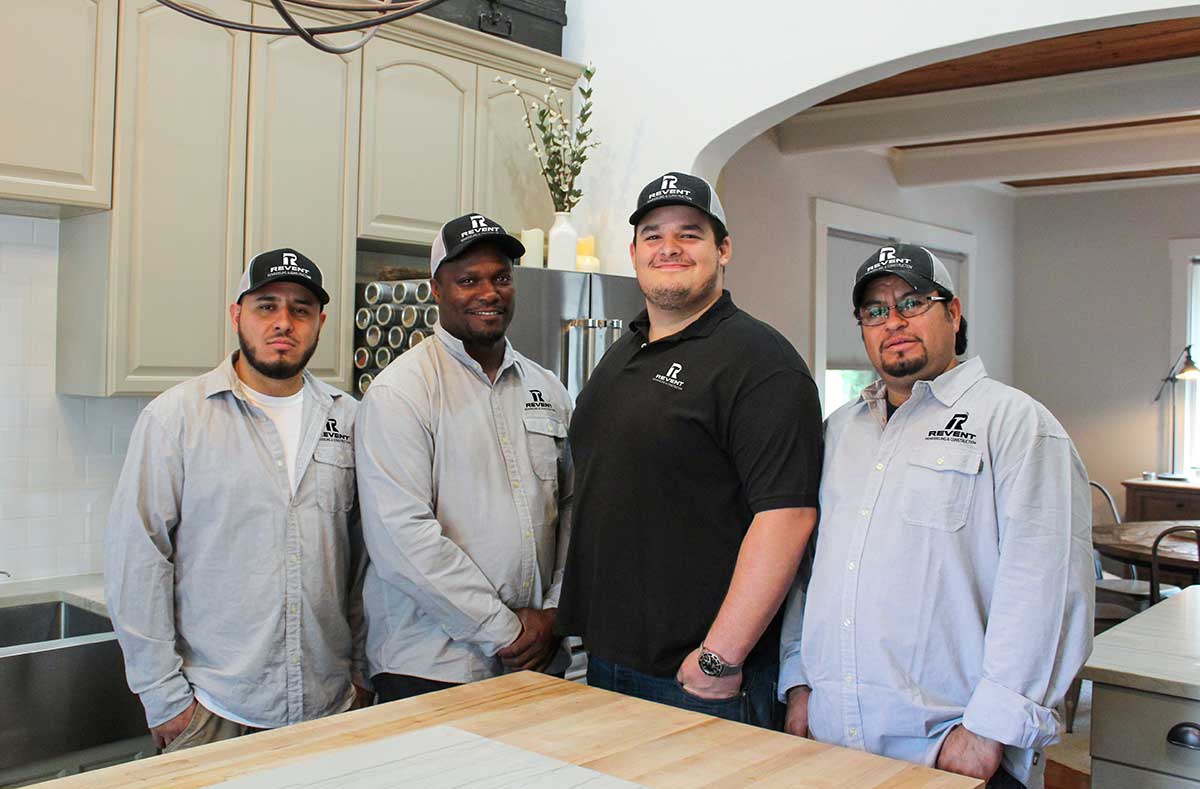 Get a Quote Now!
For Your Luxury Custom Bathroom Remodel