Kitchen Remodel

Austin, TX
Austin Kitchen Remodeling Contractors
Homeowners invest more money on kitchen remodeling in Austin than on any other home improvement project. And with good reason. Kitchens help you add style, function, and flair to the heart of your home.
No kitchen remodeling project is too big for Austin's top kitchen remodeler. Hire the kitchen remodeling experts to ensure you get your Austin dream kitchen.
Let's Talk
Kitchen Remodeling
…or call (512) 590-5223
Kitchen Remodeling Austin, TX
Austin's Best Kitchen Remodels
Revent works with talented and experienced kitchen interior designers and architects, or you can bring your own designs to the table. Our home contractors put your satisfaction first, so you can rest assured that your kitchen renovation will go exactly as planned.
Functionality and durability should be top priorities during kitchen remodeling. Our highly skilled, kitchen remodeling contractors can keep your current layout, or takedown walls and move gas lines, plumbing connections, and electrical wiring if needed. To learn more, check out our FAQ about kitchen remodeling.
Contact us to learn the options for the best kitchen remodels in Austin, Texas.
Our 5 Best Kitchen Remodels | Austin, Texas
Have you been dreaming of the perfect kitchen makeover but don't know where to begin? Look no further than Austin, Texas! This vibrant city is renowned not just for its delicious food and stunning architecture – it's also home to some of the most inspiring kitchen remodels in America.
---
Kitchen Remodel in Austin, TX
Kitchen Remodel in Austin, TX
Kitchen Remodel in Austin, TX
Kitchen Remodel in Austin, TX
Our Guide to the Best Austin, TX Kitchen Remodels
We've put together a guide featuring five unique kitchen transformations that will show you how we take your kitchen from drab to fab!
Why choose Revent for your Kitchen Remodel?
John Gioffre, owner:
When you work with Revent Builds, you work with real professionals from Austin. John gives 100% of his passion and attention to every kitchen remodel project. With client satisfaction as his metric for success, John pushes Revent to be the best luxury kitchen remodeling company in Austin.
Featured Kitchen Remodel
New Architectural Style of House in Austin: "Modern Victorian"
Revent Builds took this early 2000's kitchen and gave it a much-needed a major cosmetic overhaul.
The walls dividing the space made it feel tiny, so Revent removed the wall and made the kitchen feel grand and filled with natural light. We added floor-to-ceiling hickory cabinets around the perimeter of the kitchen to give it a modern yet timeless feel.
We Design the Perfect Kitchen Remodel
For Your Austin, Texas Home
Transform your Austin home with a kitchen that's tailored to reflect your style and taste!
Our design experts will work with you to create a kitchen that's both functional and beautiful. We'll help you choose the perfect countertop material, appliances, cabinets, and more.
Here are some of the benefits of working with us on your Austin, TX kitchen remodel:
We have years of experience in kitchen remodeling and design.
We use only the highest quality materials and workmanship.
We offer a wide variety of styles and options to choose from.
We work with your budget to create a kitchen that you love.
Remodel Your Dream Kitchen in Austin
Start Your Kitchen Remodeling Project
The Revent Builds team is here to help.
Our team of highly skilled craftsmen work seamlessly together to bring your kitchen remodeling vision to life.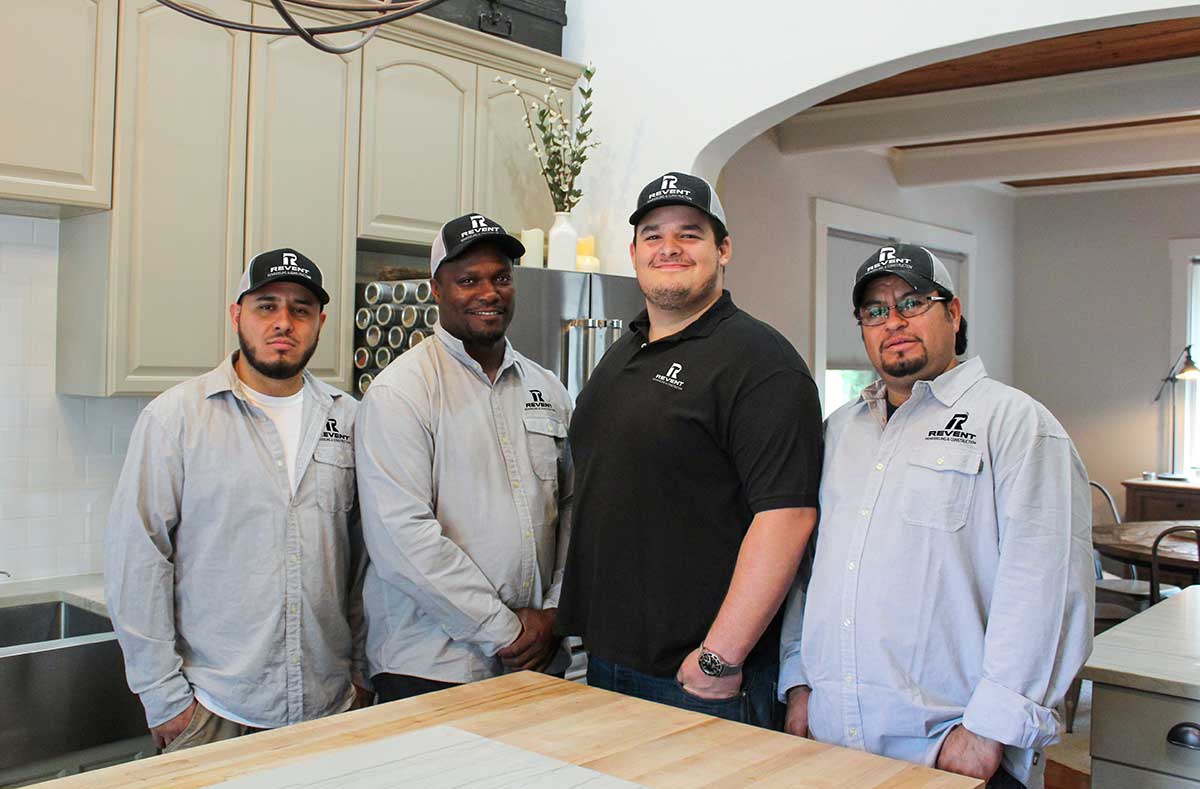 Get a Quote Now!
For Your Luxury Custom Kitchen Remodel