ATX Luxury Home Builders
Best Custom Home Builders In Austin, TX
Revent Builds is a luxury custom home builder in Austin, TX. Modern & luxurious home builds such as our signature Modern Victorian are truly first class. We are a full-service custom home builder and general contractor, capable of handling every aspect of home construction. Revent Builds is 100% committed to client satisfaction & building the best luxury custom home builds.
Client Home Builds
Austin, TX Client Home Builder
Do you have a lot you would like to build a custom home? Hire us for your next Custom Home Build project.
Spec Home Builds
Homes for Sale in Austin, TX
Do you want to buy a home but don't have the time for long-term renovations? Consider buying a luxury spec home!
ADU Home Builds
Do you want to expand on your current lot by building a guesthouse? Revent Builds specializes in adding ADUs to your property.
The House on Westlake Hills
*In Progress
Hire Homebuilding Professionals
Best Custom Home Builders In Austin, TX
Revent's custom homebuilding professionals, led by owner John Gioffre, have decades of expertise building beautiful custom homes in Austin. With a unique blend of skills & vision, our team can build your Austin dream home.
If its a Texas mansion in Austin's hill country, complex home construction on Lake Austin, or modern custom-designed home on an old Austin street, ask Revent Builds for free advice on how to hire the best Austin luxury home build contractors. Whether you're looking to create your dream living room or outdoor area, we can certainly help bring those to reality.
Discuss Your Custom Home Build
…or call (512) 590-5223
Featured Luxury Home Build
Zilker Park "Modern Victorian"
Original Architectural Style by Revent Builds
This recent luxury home build in Zilker Park (Austin) combined the beauty of 19th-century Victorian-style with the advancements of modern taste to create this first-of-its-kind custom home build style.

Inquire about our Modern Victorian luxury home builds or start by telling us where you want to build your dream home.
Hear From
Revent Builds Owner, John Gioffre
When you work with Revent Builds, you work with real people from Austin, TX. John gives 100% of his passion and attention to every detail of the build. With client satisfaction as his top priority, John & his team of talented homebuilders always deliver the best luxury home builds in Austin.
Take Our Home Decor Style Quiz
What Is My Interior Design Style?
Find out now with our quick home decor quiz. From Modern Victorian to Traditional Farmhouse, see which design style suits you best!
Experienced Craftsmen In Austin, Texas
Revent Builds is a luxury home-building firm in Austin, Texas with 25 years of experience. Our team of expert craftsmen are passionate about delivering high-quality custom home builds, kitchen and bath remodels, and additions. We have assembled a diverse group of highly skilled individuals – each offering their own unique talents to create projects that are beautiful works of art. See our architects that make your vision a reality. Read more about how Revent Builds is devoted to making your dream home come true!
Luxury Custom Home Builds
Transform your Austin home with a modern home that's tailored to reflect your style and taste! From selecting the perfect countertop material, appliances, cabinets and more – our design experts will craft an inviting space for you to enjoy many meals (and memories!) in.
Our Austin home builds are the most luxurious that you will see! Get started with the best luxury custom home builders Austin, TX has to offer.
Build Your Dream Home in Austin
Start Your Home Construction Project
The Revent Builds team is here to help.
Our team of highly skilled craftsmen work seamlessly together to bring your new home construction vision to life.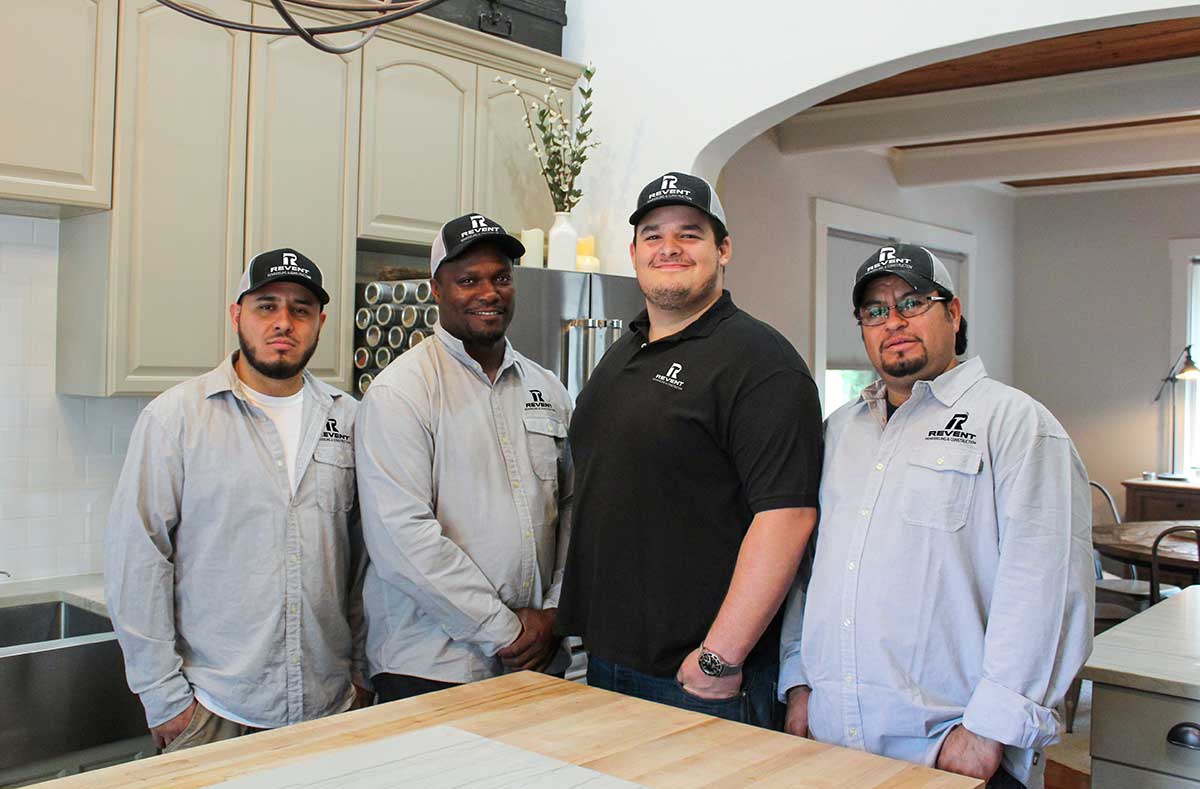 Get a Quote Now!
For Your Luxury Custom Home Build