Are you looking for different types of home builds or investment property? Whether it's an ultra-luxury residence, a dream home, or just a forever home to call your own, there are plenty of options out there. But before you make any decisions, it is important to understand the different types of properties and remodel trends that exist and how they may be best suited to meet your needs.
Home Build Type: Single Family Home
A single family home is a detached residential building designed for one household, in contrast to multi-family dwellings such as apartments and townhouses. These homes are typically found on large lots, with ample front and backyard space for gardening, recreation or leisure activities. Single family homes can range from basic starter homes to luxury properties depending on the market and individual tastes and preferences.
Home Build Type: Accessory Dwelling Unit
An Accessory Dwelling Unit (ADU) is a small secondary dwelling unit located within a single family property. It typically consists of one room or multiple rooms in an attached or detached structure built on the same lot as the primary residence. These dwellings are often used as additional living spaces for friends and family members, Airbnb rentals, or other purposes. They may also be used to generate income and increase investment returns by renting out the space in exchange for rent payments.
Home Build Type: Guest House
In addition to other types of home builds, a guest house is a small independent residential structure that is located on the grounds of another residence, typically inhabited by guests or short-term visitors of the primary residents in the main house. Guest houses can range from converted garage spaces to fully functioning separate residences with amenities such as bedrooms, bathrooms, kitchens, laundry rooms and outdoor areas like patios or gardens.
Home Build Type: Subdivisions
Subdivisions refer to a section of land that has been divided into smaller parcels for sale and development into individual residences. Generally speaking, these properties will have similar zoning restrictions regulating what types of construction can take place in each area along with regulations dictating things like minimum lot sizes or maximum building heights. Subdivision developments also include public roads and common areas that create a cohesive development plan for the overall neighborhood design.
Inquire About Custom Home Builds
If you're ready to get started on your custom home build in Austin, Texas, contact us today. We would love to help you create the custom home of your dreams!
Home Build Type: Condo Regime
A condo regime is a type of shared ownership agreement entered by owners of condominium units within an association or society where they share responsibility over day-to-day management decisions related to the upkeep of common areas like pools, playgrounds, parking lots etc., as well as any shared amenities within the complex such as gymnasiums or lounges. In addition, condo regimes typically set out governing rules regarding topics such as noise levels between units and pet policies that must be adhered to by all residents of the complex/development area.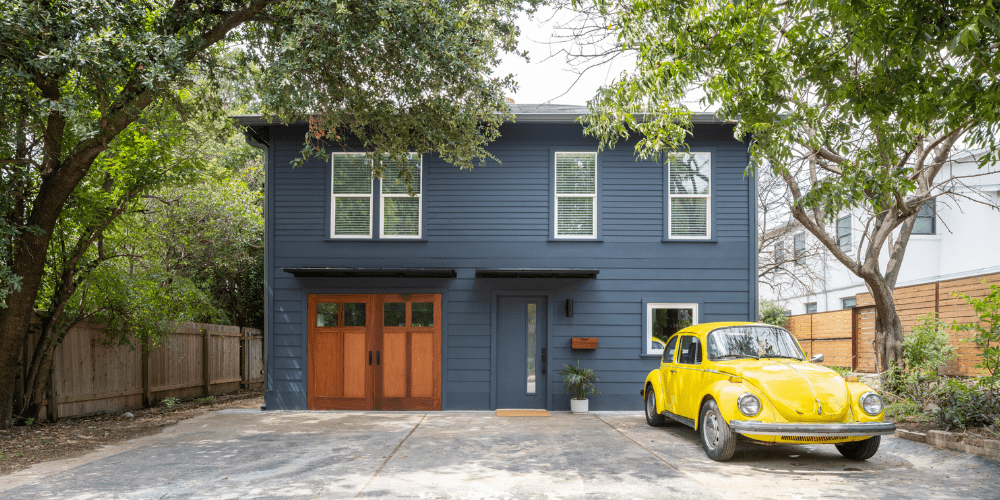 Ultra luxury homes are large scale residential properties built with high end materials and finishes that typically cost more than $2 million dollars. These properties usually feature unique designs tailored specifically for their owners' needs including custom floor plans, lavish furnishings and amenities such as private elevators, saunas & steam rooms spas, wine cellars etc., that are not available in basic starter homes or even premium standard homes.
Home Build Type: Dream Home
Dream Homes refer to residential properties designed according to their future inhabitants' wishes and desires; they may consist of features such as landscaping elements like ponds & waterfalls; luxurious appliances & furniture; specialized lighting fixtures; exotic materials like marble & gold leaf; advanced technology systems; custom swimming pools & hot tubs among many others depending on how much money one has to spend for their dream home buildout.
Home Build Type: Forever Home
Forever Homes refer to residential properties designed so that its occupants can stay there permanently without having any need or desire to move somewhere else at any point; this means providing all sorts of comforts (functional & aesthetically pleasing) so that its inhabitants' needs are met both immediately upon moving in but also long term throughout their lives without ever having them feeling uncomfortable about anything. Aspects taken into consideration when designing these residences include safety measures against natural disasters (earthquakes/fires), flexible living spaces capable of accommodating different life stages, minimal maintenance costs, energy efficiency, accessibility features , healthy living environment among many others depending on individual preferences & lifestyles.
Home Build Type: Legacy Lots
Legacy lots refer to sections of land which have been held onto through generations due to being part of an estate plan passed down through familial lines; they provide sentimental value while at times they may be limited in terms their use due local zoning laws & regulations; either way these lots come with unique opportunities that allow us cherish our heritage while creating something new off it.
Home Build Type: Estates
Estates refer large pieces of land which consist mainly comprised by single family residences but sometimes also contain commercial enterprises; they span across multiple acres where buildings are surrounded lush green gardens, pathways, courtyards, grand entrances & gates which lead up towards magnificent main mansions. Estates allow owners privacy away from urban distractions while still enjoying access modern conveniences yet ensuring exclusivity & security through walls dividing them from neighbors.
Home Build Type: Green or Eco-Friendly Homes
Green or eco-friendly homes are designed with sustainability and environmental conservation in mind. These homes utilize energy-efficient technologies, sustainable materials, and innovative design to minimize their carbon footprint. Features often include solar panels, energy-efficient appliances, water-saving fixtures, and high-quality insulation to reduce energy consumption. Green homes may also incorporate natural lighting and ventilation, rainwater harvesting, and even green roofs to further their eco-friendly goals.
Home Build Type: Lake Houses in Barton Creek or Lake Austin
Lake houses offer a unique lifestyle that combines natural beauty with modern convenience, and nowhere is this more evident than in the Barton Creek and Lake Austin areas. These locations provide a serene backdrop for lakefront living, complete with opportunities for water sports like boating, fishing, and kayaking. Imagine waking up to the sound of water gently lapping against the shore and spending your days immersed in nature, all while being just a short drive away from the amenities of Austin.
Homes in these areas often feature expansive decks, private docks, and large windows to take full advantage of the stunning lake views. The architecture can range from rustic cabins to ultra-modern designs, but the common thread is a focus on integrating the home into its natural surroundings
Types of Home Builds in Austin
We've explored an array of types of home builds to suit every lifestyle, need, and aesthetic preference. From the traditional charm of Single Family Homes to the income-generating potential of Accessory Dwelling Units, there's something for everyone. We've delved into the luxury of Estates and Ultra Luxury Homes, the practicality of Condo Regimes, and the sentimental value of Legacy Lots.
For those with a focus on sustainability, Green or Eco-Friendly Homes offer a way to live in harmony with the environment. And if waterfront living is your dream, Lake Houses in Barton Creek or Lake Austin provide an idyllic setting for a serene lifestyle.
Choosing the right type of home build is a significant decision, one that impacts your life in many ways. Whether you're looking for a forever home, an investment property, or a specialized living experience, understanding the types of home builds available can help you make an informed choice.
Contact us if you're ready to get started on your own home remodel project! Peruse our portfolio here and let us know what you like!
Inquire About Custom Home Builds
If you're ready to get started on your custom home build in Austin, Texas, contact us today. We would love to help you create the custom home of your dreams!